Timing and Cadence
Systolic murmurs occur between the first heart sound (S1) and the second heart sound (S2). Diastolic murmurs occur between S2 and S1. In addition, timing is used to describe when murmurs occur within systole or diastole. For example, early systolic, midsystolic or late systolic.
Heart Sounds Location
Where To Auscultate Heart Sounds
Heart sounds auscultation is performed over five locations on the anterior chest wall. Use the stethoscope's diaphragm, switching to the bell to hear lower pitched sounds.
Heart Murmur Location
The recommended heart murmur location on the chest wall is indicated by an icon and text within each of our lessons. Using these auscultation positions can help in evaluating the heart sound or murmur's source.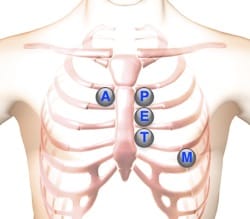 | | | | |
| --- | --- | --- | --- |
| | Aortic Valve Area | | Second right intercostal space (ICS), right sternal border |
| | Pulmonic Valve Area | | Second left intercostal space (ICS), left sternal border |
| | Erb's Point | | Third left ICS, left sternal border |
| | Tricuspid Valve Area | | Fourth left ICS, left sternal border |
| | Mitral Valve Area | | Fifth ICS, left mid-clavicular line |
Duration
Heart murmur duration refers to the portion of systole or diastole that the murmur occupies. Terms used include short and long. Murmurs lasting throughout systole are referred to as holosystolic or pansystolic.
Pitch
Evaluation of the murmur's pitch should be made by classifying the pitch (frequency) as low, medium or high. The stethoscope's bell can be helpful with low-pitched sounds while the diaphragm is used for medium or high-pitched sounds.
Shape
Some murmurs are described by the sound's shape. Common classifications include crescendo (increasing intensity), decrescendo (decreasing intensity), crescendo-decrescendo (increasing then immediate decreasing intensity). Crescendo-decrescendo is also called diamond shaped. Rectangular, also termed plateau indicates a heart murmur of constant intensity. Our lessons include waveforms that illustrate these shapes.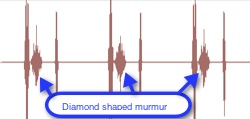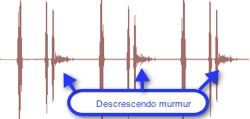 Tonal Quality
Listen for additional aspects of the murmur's sounds. Heart murmurs may have qualities that can be noted as musical, harsh, blowing, booming, sharp or dull.
Respiration and Patient Position
Respiration or patient position can influence murmur intensity as well as heart sound splitting. These factors will be described within the heart sound lessons. Generally speaking, murmurs increasing with expiration originate with left side (aortic or mitral) valves, while murmurs increasing in intensity with inspiration originate with tricuspid or pulmonary valves.
Within each lesson, the author provides a sketch of the patient's position during auscultation, such as supine, left lateral decubitus, squatting or sitting.