Carotid Bruit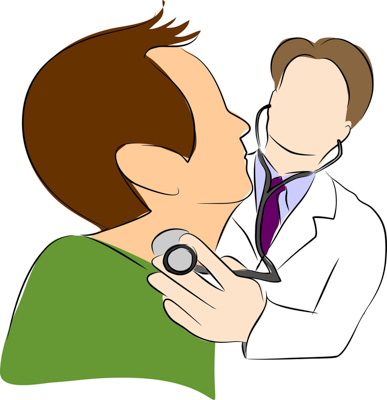 Carotid Bruit Course Overview
This course extends auscultation skills with carotid artery disease cases.
A bruit (pronounced 'broo-ee') is a vascular, whooshing sound, caused by turbulent blood flow in an artery which supplies blood to the brain. Increased stenosis of a carotid artery results in increased duration, intensity, and pitch of the bruit.
Carotid bruit sounds and a basal heart murmur are easily confused. Because the sounds radiate throughout the body, a heart murmur will be heard, with reduced intensity, at the auscultation points above the clavicle and a carotid bruit will be heard (again with reduced intensity) at the auscultation points below the clavicle. If the intensity of sound is greater above the clavicle, it is most likely a carotid bruit. If it is louder below the clavicle, it is most likely a heart murmur.
Use either the bell or the diaphragm when listening for the carotid bruit, at a point just lateral to the Adam's apple. Listen for the murmur of aortic stenosis at the second right intercostal space (2RICS).
An early systolic bruit is associated with a 50% decrease in carotid artery luminal diameter. A pansystolic bruit is associated with a 60% reduction in luminal diameter. A pansystolic bruit that extends into early diastole is associated with a decrease in luminal diameter of 70% to 80%.
For more information, visit Alan Lucerne and James Espinosa's article about carotid bruit found in the National Library of Medicine.
The patient cases provide a content for practicing carotid artery exams. Each case consists of multiple pages which summarize patient history, heart and carotid bruit sounds, lab results and diagnosis.
After completing a lesson, use the lesson table of contents to navigate to another lesson.
When all lessons have been completed, we recommend using the auscultation practice exercises or quiz. In order to gain a certificate of achievement, please complete the course lessons and practice drill during one session. Most users complete the course in 30-45 minutes.
Course Completion
Registered users can earn a certificate of achievement for this module by reading all content and then earning a passing score on this module's quiz.
Completed modules and related scores can be viewed on the dashboard.
Sign-in to enable progress reports and certificates.