Auscultation in Primary Care
This course is a survey of normal and abnormal heart sounds and murmurs encountered in primary care . The course starts with normal heart sounds and continues with extra heart sounds and murmurs.
Each lesson in this course includes text describing the heart or lung abnormality and a simulated torso indicating the stethoscope chestpiece location. An audio recording of the sound is provided. Phonocardiograms or waveforms are included with each lesson. These waveforms can be a highly useful aid in learning to recognize heart murmurs. In addition, short videos clips illustrate the heart's motion for each abnormality. These animations indicate the origin of each murmur. Blood flow is also animated. For lung sounds, the source (location) of the sound can be revealed.
After completing a lesson, use the lesson table of contents to navigate to another lesson.
When all lessons have been completed, we recommend using the auscultation practice exercises or quiz. In order to gain a certificate of achievement, please complete the course lessons and practice drill during one session. Most users complete the course in 30-45 minutes.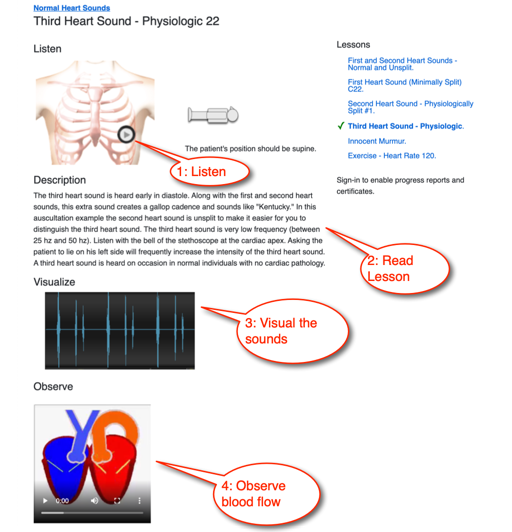 Course Completion
Registered users can earn a certificate of achievement for this module by reading all content and then earning a passing score on this module's quiz.
Completed modules and related scores can be viewed on the dashboard.
Sign-in to enable progress reports and certificates.
Sources

Laennec Publishing; 1st edition (January 1, 2009)