Third Degree Heart Block ECG Interpretation
Description Part 1
Third Degree Heart Block is also known as "Complete Heart Block".
This name more accurately describes the electrical event or problem occurring within the heart.
As a result of disease or tissue death, there is a blockage preventing electrical impulses within the atria from entering the ventricular conduction system.
The outcome of 3rd degree heart block ECG are two independently functioning pacemakers within the heart (typically one is supraventricular, the other is ventricular).
Essentially, the atria and ventricles are electrically separated (dissociated) from one another.
Description Part 2
What will be seen are regularly occurring P waves and QRS complexes, but at two distinctly different rates.
The QRS complexes may occur as a result of impulses coming from the His bundle or the Purkinje network.
Morphology and rate will often provide clues regarding the locus of ventricular impulse stimulation. A more narrow appearing QRS with a rate greater than 40 generally would indicate the impulse formation is coming from the His bundle. A wide, bizarre QRS with a rate of 40 or less indicates the impulses are originating in the Purkinje network.
Complete heart block presents with Regular P to P and R to R intervals and a variable P-R interval.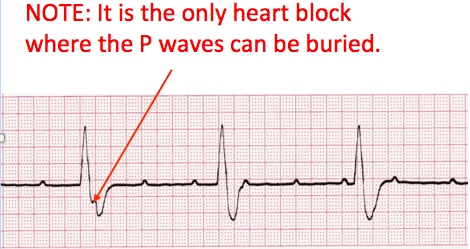 ECG Practice Strip
Analyze this tracing using the five steps of rhythm analysis.
Show Answer

Rhythm: Atria and Ventricles - Regular
Rate: Atria – 94, Ventricles - 34
P Wave: Upright (some buried)
PR interval: Variable
QRS: 0.14 sec
Interpretation: Third Degree (Complete) Heart Block