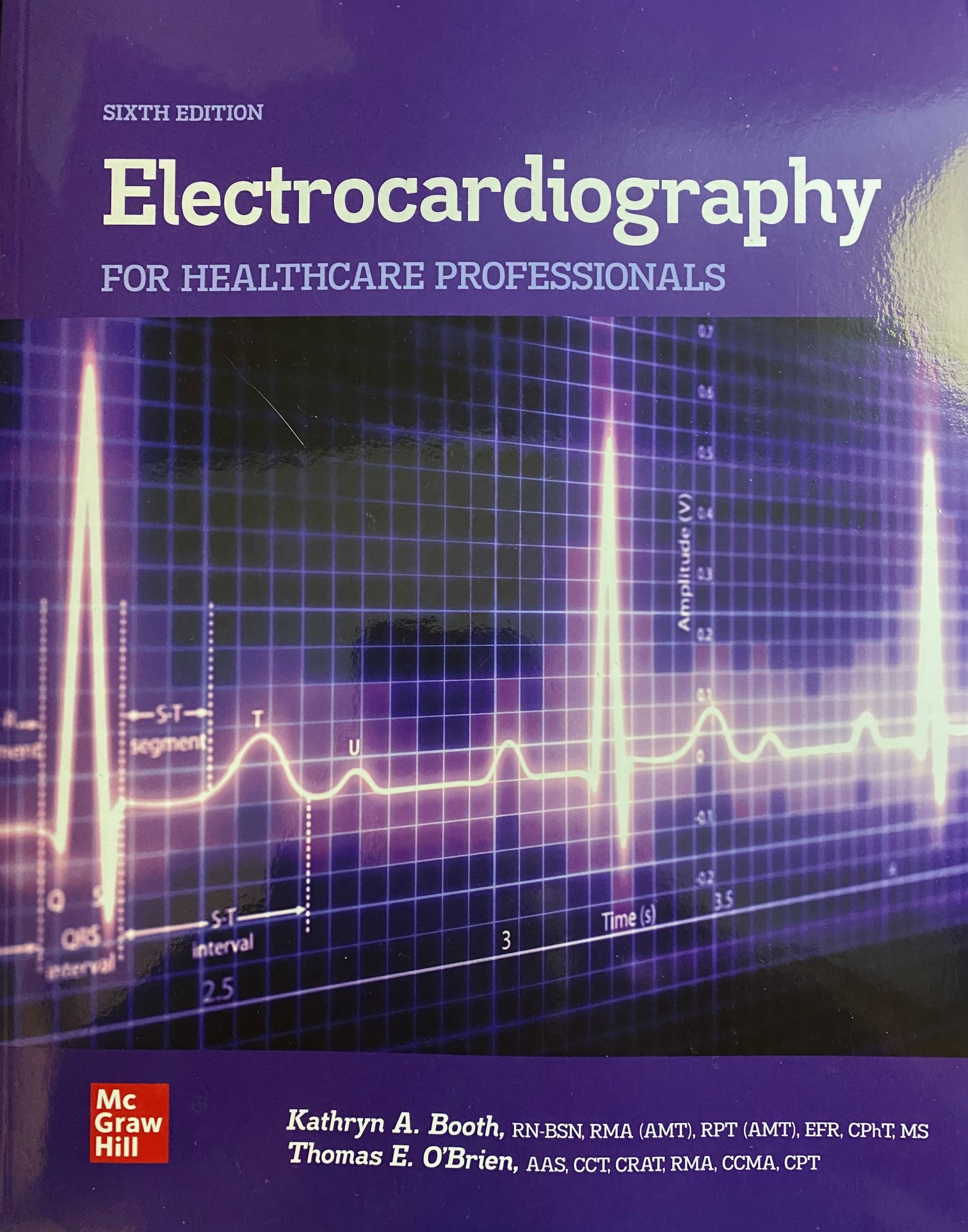 Electrocardiography for Healthcare Professionals, 6th Edition
By Kathryn Booth and Thomas O'Brien
ISBN10: 1265013470, ISBN13: 978-1265013479
Published by McGraw Hill, 2023
Authors


Kathryn A. Booth, RN-BSN, RMA (AMT), RPT, CPhT, MS is a registered nurse (RN) with a master's degree in education as well as certifications in phlebotomy, pharmacy tech, and medical assisting. She is an author, an educator, and a consultant for Total Care Programming, Inc. She has over 30 years of teaching, nursing, and healthcare experience that spans five states. As an educator, Kathy has been awarded the teacher of the year in three states where she taught various health sciences, including medical assisting in both a classroom and an online capacity. Kathy serves on the AMT Examinations, Qualifications, and Standards committee, as well as the advisory board for two educational institutions. She stays current through working at various practice settings as well as obtaining and maintaining certifications. Her larger goal is to develop up-to-date, dynamic healthcare educational materials to assist her and other educators and to promote healthcare professions.

Thomas E. O'Brien, AS, CCT, CRAT, RMA, is the Allied Health Program chairperson at Remington College, Fort Worth, Texas. Tom also works as an author of CME activities and editor with Practical Clinical Skills (www.practical clinicalskills.com). He is also on the Board of Trustees and Exam Chair for the Certified Cardiographic Technician and Certified Rhythm Analysis Technician Registry Examinations working with Cardiovascular Credentialing International (CCI). His background includes over 24 years in the U.S. Air Force and U.S. Army Medical Corps. Tom's medical career as an Air Force Independent Duty Medical Technician (IDMT) has taken him all over the United States and the world. He has several years' experience working in the Emergency Services and Critical Care arena (Cardiothoracic Surgery and Cardiac Cath Lab). He was awarded Master Instructor status by the U.S. Air Force in 1994 upon completion of his teaching practicum. He now has over 15 years of teaching experience; subjects include Emergency Medicine, Cardiovascular Nursing, Fundamentals of Nursing, Dysrhythmias, and 12-Lead ECG Interpretation. His current position provides challenges to meet the ever-changing needs of the medical community and to provide first-rate education to a diverse adult education population.