Arrhythmogenic RV Dysplasia Lesson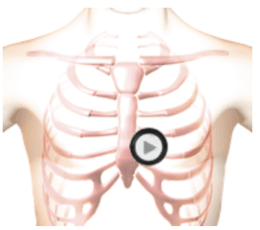 The patient was supine during auscultation.
Description
Arrhythmogenic RV Dysplasia is a familial abnormality associated with the replacement of the right ventricle with fibro-fatty tissue. This condition is marked by an enlarged right ventricle and decreased vigor of contraction.
The first and second heart sounds are normal. Regurgitant turbulent flow from the right ventricle into the right ventricle generates a pansystolic rectangular murmur.
Arrhythmogenic RV Dysplasia can be auscultated at the tricuspid area.
Phonocardiogram
Anatomy
Arrhythmogenic RV Dysplasia