Fourth and First Heart Sounds Lesson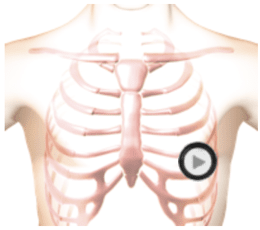 The patient was supine during auscultation.
Description
A fourth sound gallop (S4) plus a first heart sound (S1) can mimic a split first heart sound. Since the S4 occurs just before the S1, it is easy to confuse a S4-S1 pair with a split S1.
Listen carefully to the frequency of the initial sound of the S4-S1 pair. If it is lower in frequency than the second sound, it is an S4. If the two sounds have a similar frequency, it is a split S1.
Phonocardiogram
Anatomy
Fourth and First Heart Sounds