Bronchial Lesson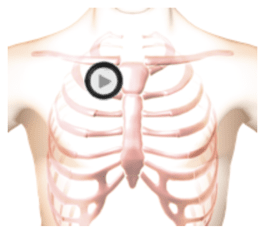 The patient was seated during auscultation.
Description
Bronchial breath sounds are hollow, tubular sounds that are higher-pitched compared to vesicular sounds. They can be auscultated over the trachea and anteriorly along each side of the sternum, from the second to fourth intercostal spaces. Posteriorly, along the vertebral column from the third to sixth intercostal spaces.
The stethoscope's diaphragm should be used for these breath sounds. There is a distinct pause in the sound between inspiration and expiration. I:E ratio is 1:3.
Phonocardiogram